Even champions sometimes have bad days, right? Similarly, Shopify store owners might face situations when everything seems to be done correctly and the store appears to be connected to the Sell.xyz platform, but for unclear reasons, the customers may not be able to buy the items.
If so, don't worry. Most likely it is due to one of the following little issues that you can solve in a couple of clicks and feel like a champion again! 🐅
Non-enabled international sales
Shopify has recently introduced a new feature that allows only domestic country sales by default. Hence, if you don't change this setting, you will not be able to sell to anyone outside of your country.
The fix is very simple 🧭 You can even choose whether to enable sales in all markets or specific countries one by one.
Enabling all international markets at once
1. Enable International Markets.
2. Then Open "Manage" and click "Activate".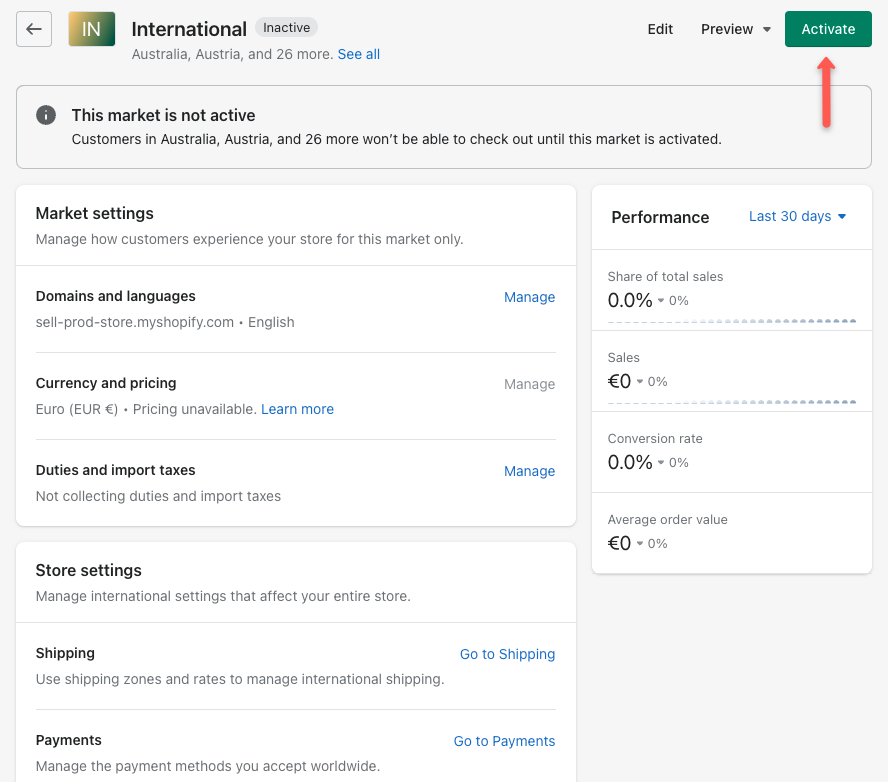 Enabling specific countries
1. Click "Add Market".
2. Simply pick the country you want to add.
Wrong address fields
In case you have missed some of the address fields there can be delays or even cancellations for your order processing. Please make sure that you always require the following address fields to be provided by your customers:
Email
Phone number
Country
Street address
City
State/Province (if applicable to your country)
Postal (ZIP) code
Unrealistic delivery fees
Please make sure that you have provided a proper fee for delivery services. In case you make a business decision to provide delivery for free, please reflect it in your product prices properly. View delivery fees of the providers.